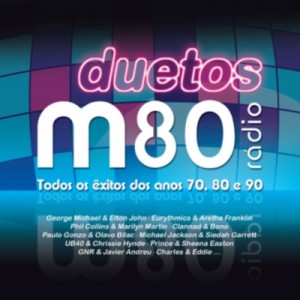 Excelente recopilacion en dos cds con lo mejores duetos de la musica pop/rock de los años 70,80 y 90 con artistas de la talla de Aretha Franklin, George Michael, Elton John, Michael Jackson, Duran Duran, Joe Cocker, UB40, Phil Collins y muchos mas.
Artista: Varios
Album: M80 Duetos
Fecha de Lanzamiento: La Orquesta Del Titanic
Genero: Pop / Rock
Formato/Calidad: Mp3
Tamano del Archivo: archivos de 259 Mb comprimido con winrar
Contraseña para Descomprimir: OrionShark
Lista de Temas:
CD 01
01. George Michael & Elton John – Don't Let The Sun Go Down On Me
02. Daryl Hall & John Oates – Maneater
03. Michael Jackson & Siedah Garrett – I Just Can't Stop Loving You
04. Charles & Eddie – Would I Lie To You
05. Paulo Gonzo & Olavo Bilac – Jardins Proibidos
06. Eurythmics & Aretha Franklin – Sisters Are Doin' It For Themselves
07. Phil Collins & Marilyn Martin – Separate Lives
08. Duran Duran feat. Melle Mel & Grandmaster Flash & The Furious Five – White Lines
09. Clannad & Bono – In A Lifetime
10. Kenny Rogers & Sheena Easton – We've Got Tonight
11. David Grant & Jaki Graham – Could It Be I'm Falling In Love
12. Peabo Bryson & Roberta Flack – Tonight, I Celebrate My Love
13. Deborah Harry & Iggy Pop – Well Did You Evah?
14. Nick Cave and the Bad Seeds & Kylie Minogue – Where The Wild Roses Grow
15. Serge Gainsbourg & Jane Birkin – Je t'Aime Moi Non Plus
CD 02
01. UB40 & Chrissie Hynde – I Got You Babe
02. Ashford & Simpson – Solid
03. Joe Cocker & Jennifer Warnes – Up Where We Belong
04. GNR & Javier Andreu – Sangue Oculto
05. Prince & Sheena Easton – U Got The Look
06. Aretha Franklin & George Michael – I Knew You Were Waiting (For Me)
07. Terence Trent D'Arby & Des'ree – Delicate
08. Lionel Richie & Diana Ross – Endless Love
09. Brandy & Monica – The Boy Is Mine
10. Kim Carnes & Kenny Rogers – Don't Fall In Love with a Dreamer
11. Peter Cetera & Amy Grant – The Next Time I Fall
12. Jermaine Jackson & Pia Zadora – When The Rain Begins To Fall
13. Luís Represas & Pablo Milanés – Feiticeira
14. Peter Tosh & Mick Jagger – (You Gotta Walk) Don't Look Back
15. Clarence Clemons & Jackson Browne – You're A Friend of Mine
Contraseña: OrionShark
http://depositfiles.com/files/7196646cg

http://letitbit.net/download/93538.94223a6e387c6e4e800875bd41c3/Mus_Ori_24.rar.html
---
---
Añadir a favoritos
---
---
---
Deja tu comentario
Debes iniciar sesion para poder enviar un comentario.