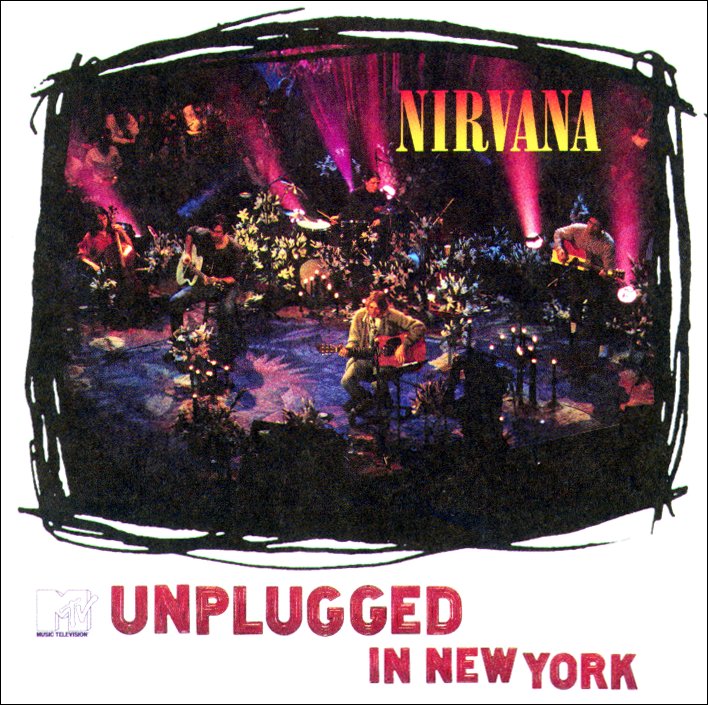 | | | | |
| --- | --- | --- | --- |
| Año | Título | Sello discográfico | Otra información |
| 1994 | MTV Unplugged in New York | Geffen | Álbum acústico en vivo. |
MTV Unplugged in New York es un álbum en vivo de la banda estadounidense de grunge, Nirvana, lanzado en Noviembre de 1994. El álbum muestra el concierto acústico que la banda hizo en los estudios Sony Music en Nueva York el 18 de noviembre de 1993. El álbum ganó un premio Grammy por Mejor Álbum de Música Alternativa en 1996.
Significado
MTV Unplugged in New York fue aclamado por los críticos como prueba de que la banda podía trascender del sonido grunge a los que estaban comúnmente asociados, y también hizo una "radiografía" del diverso gusto de la banda en música, con covers de The Vaselines, David Bowie, los Meat Puppets (que estuvieron acompañándolos en los 3 covers que hicieron de ellos) y Leadbelly. Los críticos resaltaron especialmente en los "íntimos" y "menos ruidosos" arreglos, como el acompañamiento de cuerdas en varias canciones así como la batería de Dave Grohl más suave en comparación con su usual forma destructiva de tocar, que permitieron que las excelentes habilidades para escribir canciones de Kurt brillara en todo el concierto. El álbum abrió su primera semana en el número 1 del Billboard 200.
Curiosidades
TV Unplugged in New York incluye 2 canciones que no fueron mostradas en la primera transmisión del concierto por MTV: "Something in the Way" y "Oh Me", y también un instrumental corto de "Scentless Apprentice" por Dave. Tanto el CD como la transmisión omiten conversaciones entre el público y los integrantes de la banda y breves instrumentales de "In Bloom", "Sliver" y "Sweet Home Alabama" de Lynyrd Skynyrd
Kurt Cobain reconoció sentirse arrepentido de realizar el Unplugged.[cita requerida]
Todas las canciones escritas por Kurt Cobain excepto donde sea indicado
"About a Girl" — 3:37
"

Come As You Are

" — 4:13
"

Jesus Doesn't Want Me for a Sunbeam

" (

Kelly

/

McKee

; The Vaselines) - 4:37
"The Man Who Sold the World" (David Bowie) - 4:20
"Pennyroyal Tea" — 3:40
"Dumb" — 2:52
"Polly" (Cobain/Nirvana) — 3:16
"On a Plain" — 3:44
"Something in the Way" — 4:01
"

Plateau

" (Kirkwood; Meat Puppets) — 3:38
"

Oh, Me

" (Kirkwood; Meat Puppets) — 3:26
"

Lake Of Fire

" (Kirkwood; Meat Puppets) — 2:55
"All Apologies" — 4:23
"

Where Did You Sleep Last Night?

" (Leadbelly) — 5:08
ALBUM: http://www.megaupload.com/?d=NYAEV6PA
(¯`·._.·[ALEXANDER,.-THE-.,GREAT]·._.·´¯)
---
---
Añadir a favoritos
---
---
---
Deja tu comentario
Debes iniciar sesion para poder enviar un comentario.